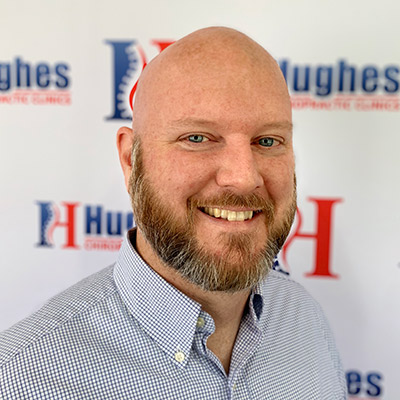 Dr. Brian Hughes
Following a Long Family Tradition
There were 22 chiropractors in Dr. Brian's family before he decided to become the 23rd. Growing up, he heard numerous stories about how the chiropractors in his family had positive effects on people's lives. He wanted to make an impact on the well-being others and knew he would join the family profession.
I was adjusted when I was less than a day old. I'm fortunate to have gotten the benefits of chiropractic care all my life. I get excited to go to work and know I have the chance to make a difference in someone's life.
Training and Recognition
Dr. Brian's education began at Francis Marion University in Florence, South Carolina. He earned a Bachelor of Science in Biology. Then, it was time to obtain his Doctor of Chiropractic. He attended Palmer College of Chiropractic, just like his father and grandfather had. In 2005, he graduated and returned to Rock Hill to practice with his father.
Dr. Brian is the second doctor in the history of the South Carolina Chiropractic Association (SCCA) to be named Young Chiropractor of the Year twice. He was also named the South Carolina Chiropractor of the Year by the SCCA.
No matter what your age or stage of life is, Dr. Brian can help you be the best version of yourself. Whether infant, senior citizen or someone who has had back surgery, it's never too late to start chiropractic.
Our patients are our extended family. I love sharing the benefits of a chiropractic lifestyle with people.
Outside of the Office
Dr. Brian is blessed with a beautiful family including his wife Dr. Iva and their sons, Ayden and Brady. When they aren't at work, they go for walks, bike rides and love to keep active. Dr. Brian enjoys activities that include anything and everything with the great outdoors.
Walk-Ins Welcome
At Hughes Chiropractic Clinics we do our best to accommodate walk-in visitors. Or you can contact our team today to schedule an appointment!
---
Dr. Brian Hughes | (803) 327-3700