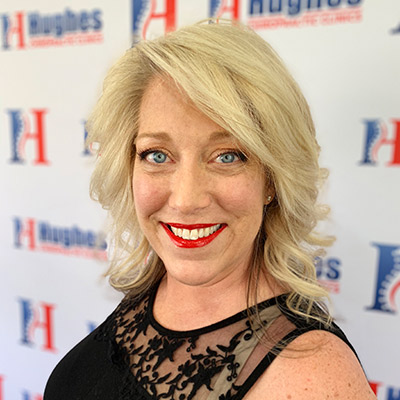 Dr. Iva Hughes
I love making people feel better. I want you to be happy and healthy.
It wasn't until Dr. Iva saw the success of chiropractic that she truly understood its power. She was working as a licensed massage therapist in a chiropractor's office. A four-day-old baby boy with sleeping problems was unable to lie on his back and barely eating. The mom, at her wit's end, brought her son to her chiropractor. With a slight pressure on the spine, the doctor made a dramatic impact on the baby.
The baby's color turned that perfect shade of newborn pink. He let out a sigh of relief, rolled onto his back and promptly fell asleep. "I was awestruck at what I saw. From then, I knew chiropractic was the path for me. Thinking of it still makes my hair stand up!"
Learning to Help Others
Dr. Iva studied at Hocking College in Nelsonville, Ohio and COSM in Columbus, Ohio. She earned a degree in massage therapy as well as an Associate's Degree in Accounting. The next step was to move to Davenport, Iowa to study at Palmer College of Chiropractic. During these years, she excelled in courses such as biochemistry, physiology, X-ray diagnosis and chiropractic techniques. The internship at the school's college allowed her to fine-tune her adjusting skills.
She graduated in 2006 with a Doctor of Chiropractic. In 2014, Dr. Iva was the first female doctor to be awarded South Carolina's Young Chiropractor of the Year by the South Carolina Chiropractic Association.
A Passion for Prenatal, Postpartum and Pediatric Care
Dr. Iva has a passion for working with pregnant women, babies and children. During her pregnancies, she loved the benefits of regular chiropractic adjustments, including a quick labor and delivery.
I want to encourage and educate everyone about the incredible intelligence their body already has.
Her success stories include several women who were told they'd never get pregnant, only to conceive and have a baby after starting care. Once their babies were born, Dr. Iva encouraged them to bring their infant in to ensure that the baby has the highest possible function.
CHIROPRACTIC CARE »
Outside of the Office
Dr. Iva and Dr. Brian met when they attended Palmer. They have two sons, Ayden and Brady. Both were born naturally with no interventions or painkillers. Both were adjusted at a few days old. When she isn't busy at the office, Dr. Iva loves to do organic farming, go fishing and spend time with her family.
Same-Day Visits Available
At Hughes Chiropractic Clinics you don't have to wait long to get in for your appointment. Contact our team now!
---
Dr. Iva Hughes | (803) 327-3700