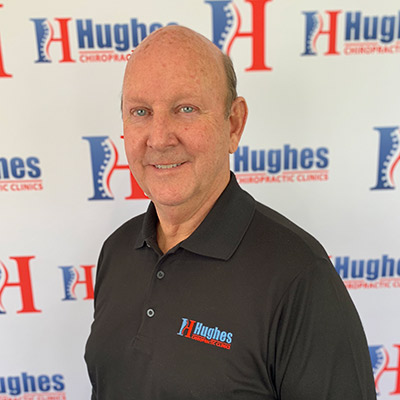 Dr. Douglas Hughes
Understanding the Power of Chiropractic
While growing up, Dr. Hughes was active in sports. After an injury, the medical doctors told him that surgery was necessary. His dad, a chiropractor, performed an examination and gave him gentle adjustments. A quick recovery ensued, and Dr. Hughes was back playing within just a couple of weeks.
Friends with similar injuries, however, ended up being out for the entire season.
I was amazed at the results I got. I couldn't understand why anyone would consider surgery before trying this more conservative option!
Attending His Father's Alma Mater
Dr. Hughes attended the University of South Carolina and completed some basic science courses. Then, he was accepted into Palmer College of Chiropractic where his father had attended. During his four years there, he took biochemistry, anatomy, physiology, X-ray, diagnosis, chiropractic techniques and more. He was the head Grostic intern at the school's public clinic.
After graduating with a Doctor of Chiropractic in 1977, Dr. Hughes returned to his hometown to practice with his father. He is a three-time recipient of the South Carolina Chiropractic Association's Chiropractor of the Year award. In 2012, he was inducted into the South Carolina Chiropractic Hall of Fame.
CHIROPRACTIC CARE »
Outside of the Office
Dr. Hughes has three fantastic children: Brian, Hailey and Hannah. His perfect grandchildren include Ayden, Brady, Bellamy, Hollis, Isla, James and Norah Grace. When he isn't busy with chiropractic, Dr. Hughes loves to work in the yard, do handyman renovations and carpentry or play with his grandkids. He feels that being active is vital to his physical, mental and spiritual heath.
He reads inspirational and motivational materials to challenge his mind. To stay updated on the latest in the field, he subscribes to many chiropractic and medical journals. He is a member of the First Baptist Church.
Free Consultations Available
Find out whether Hughes Chiropractic Clinics is the right fit for you. Contact us today to schedule a consultation!
---
Dr. Douglas Hughes | (803) 327-3700