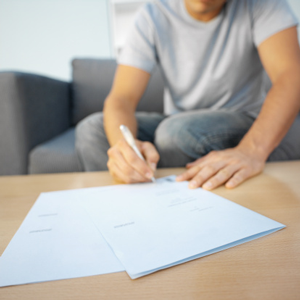 New Patients
You'll love the warm, welcoming feeling you get when you arrive at Hughes Chiropractic Clinics. A member of our friendly team will greet you and make sure that you feel right at home. If you're able to, we encourage you to print out our paperwork at home and bring it in filled out. Please be sure that you have a state identification card or driver's license with you along with your insurance card.
ONLINE FORMS »

Day One
At your first appointment, you'll meet with your chiropractor for a consultation to discuss what's brought you in. We'll have a full examination that includes X-rays, if needed. Then, we want to fully evaluate your results and come up with a game plan for you. This visit takes approximately 45 minutes.
Day Two
We'll have you return the next day to go through the findings from your examination. Your chiropractor will detail their recommendations and why we think they're right for you. If you agree to move forward, you'll receive your first chiropractic adjustment. A member of our team will talk to you about all financials including your insurance coverage. Your second visit approximately 30 minutes.
Regular Visits
Your follow-up visits are shorting, taking a maximum of 20 minutes.
Would you like to find out more about us? Contact Hughes Chiropractic Clinics now to schedule your free consultation! We accept insurance.
CONTACT US »
---
New Patients | (803) 327-3700